FREE* Intro Class and Sambo Demo
by Oleg TAKTAROV
at UBC Martial Arts & Comatives Exhibition
Thursday, September 23, 1999
7:00 p.m. to 8:00 p.m.
*open to all, no uniform, no experience required! (limited space)
The Ultimate Martial Arts Seminar
Saturday, September 25, 1999
10:00 a.m. to 3:00 p.m.
$60 for Reservations paid before Sept. 12
Learn OLEG's Secrets that made him Ultimate Fighting CHAMPION!
Grappling, Takedown, and Submission Techniques!
Be ready for Action!
Beginners also welcome!
Sunday, September 26 10:00 a.m. to 2:30 p.m.
Self Defence Seminar with
Oleg TAKTAROV
and Bill WOLFE
Wolfe's Realistic Self-Defense, North Vancouver 904-9653
$80 for Reservations paid before Sept. 12
$100 only Special deal for both events paid before Sept. 12.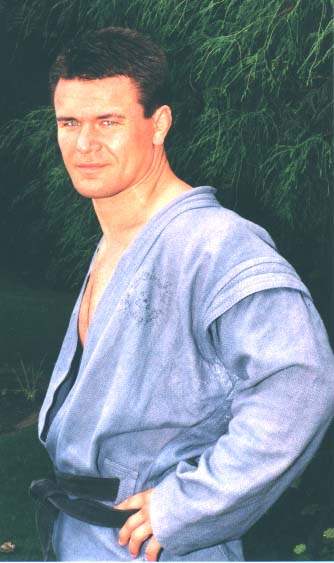 Oleg Taktarov
from Hollywood, CA
6thdan Sambo
4th dan Jujitsu
3rd dan Judo
UFC 6 Champion
World Champion
in various Martial,
Fighting, and
Grappling Arts.